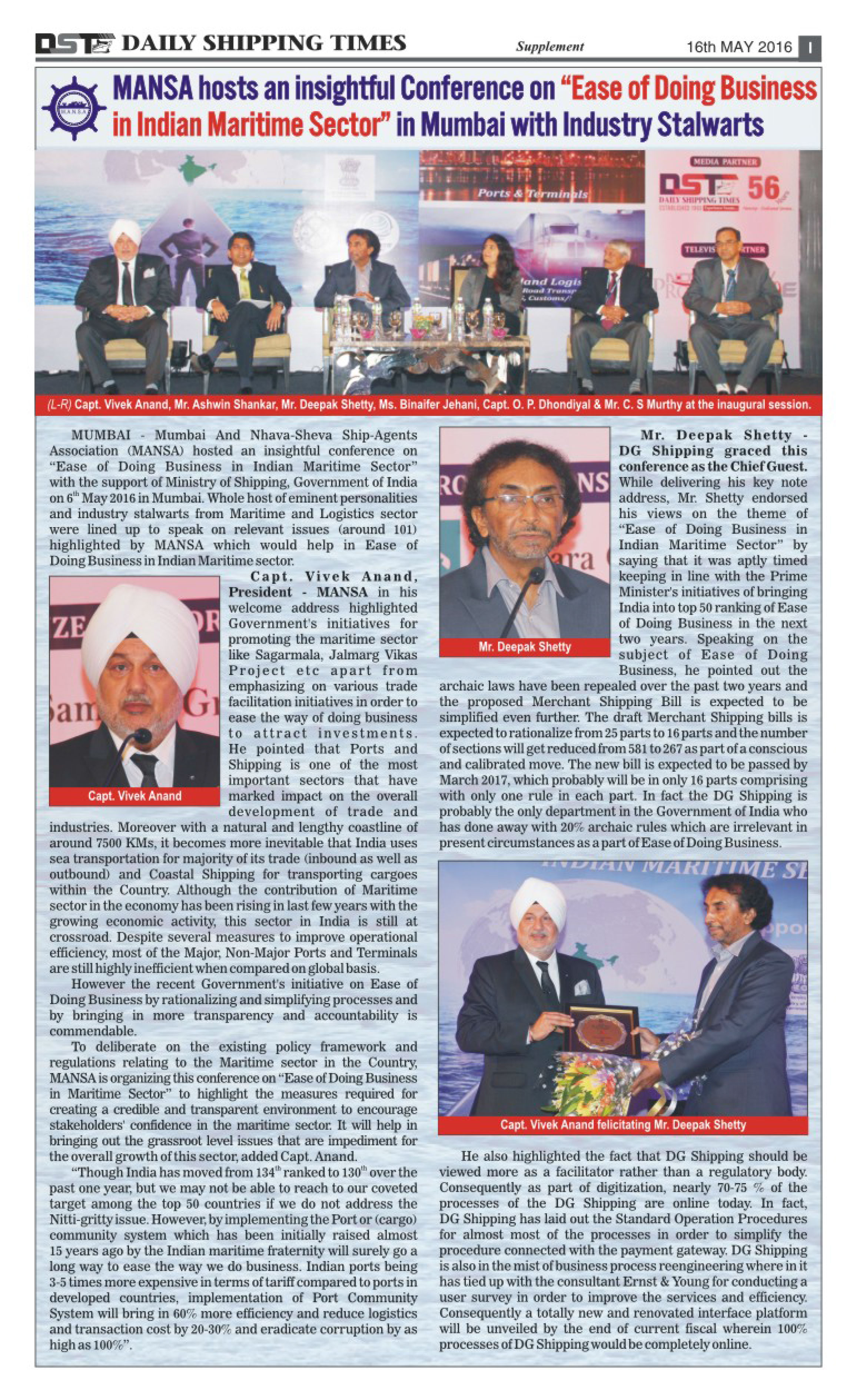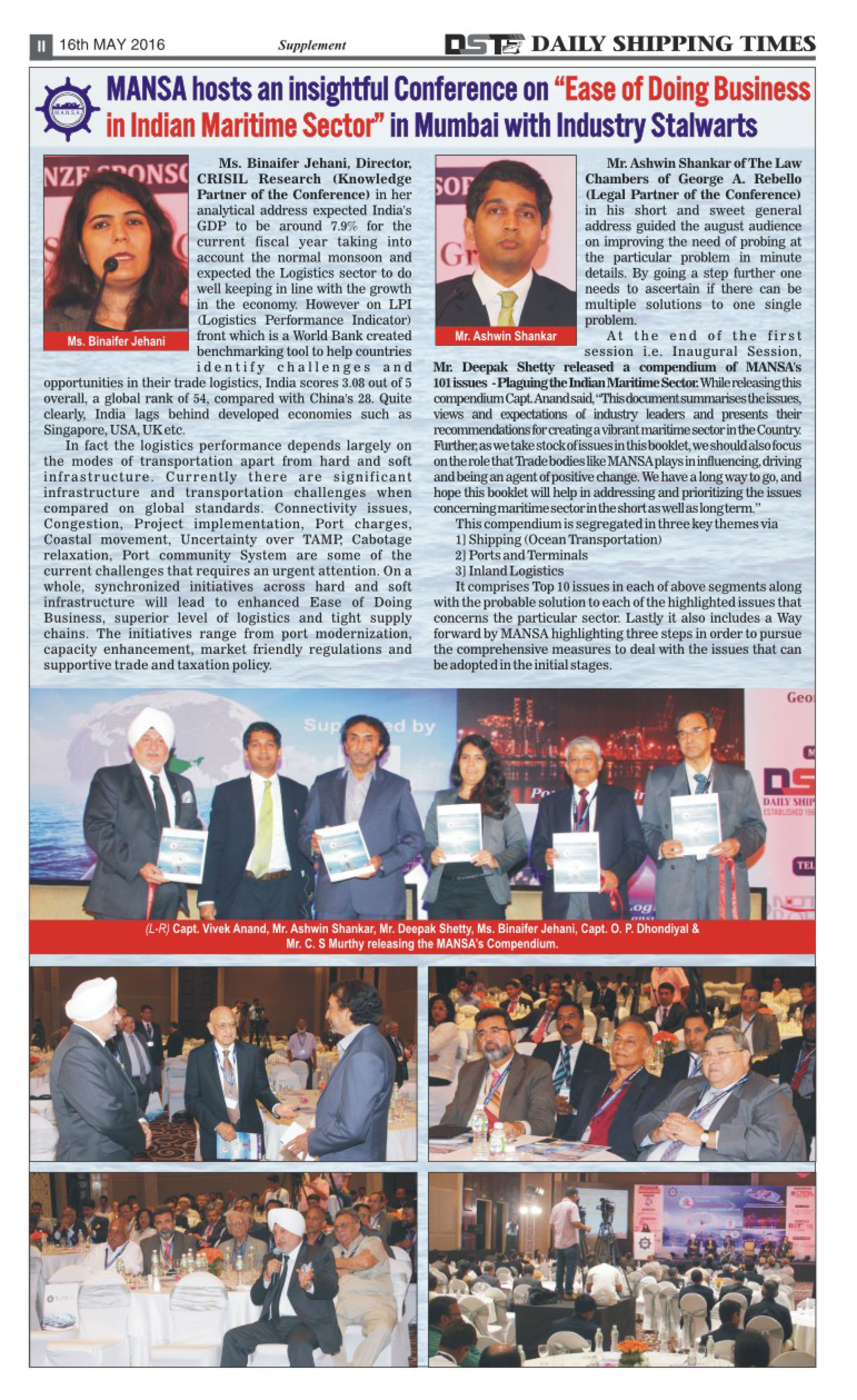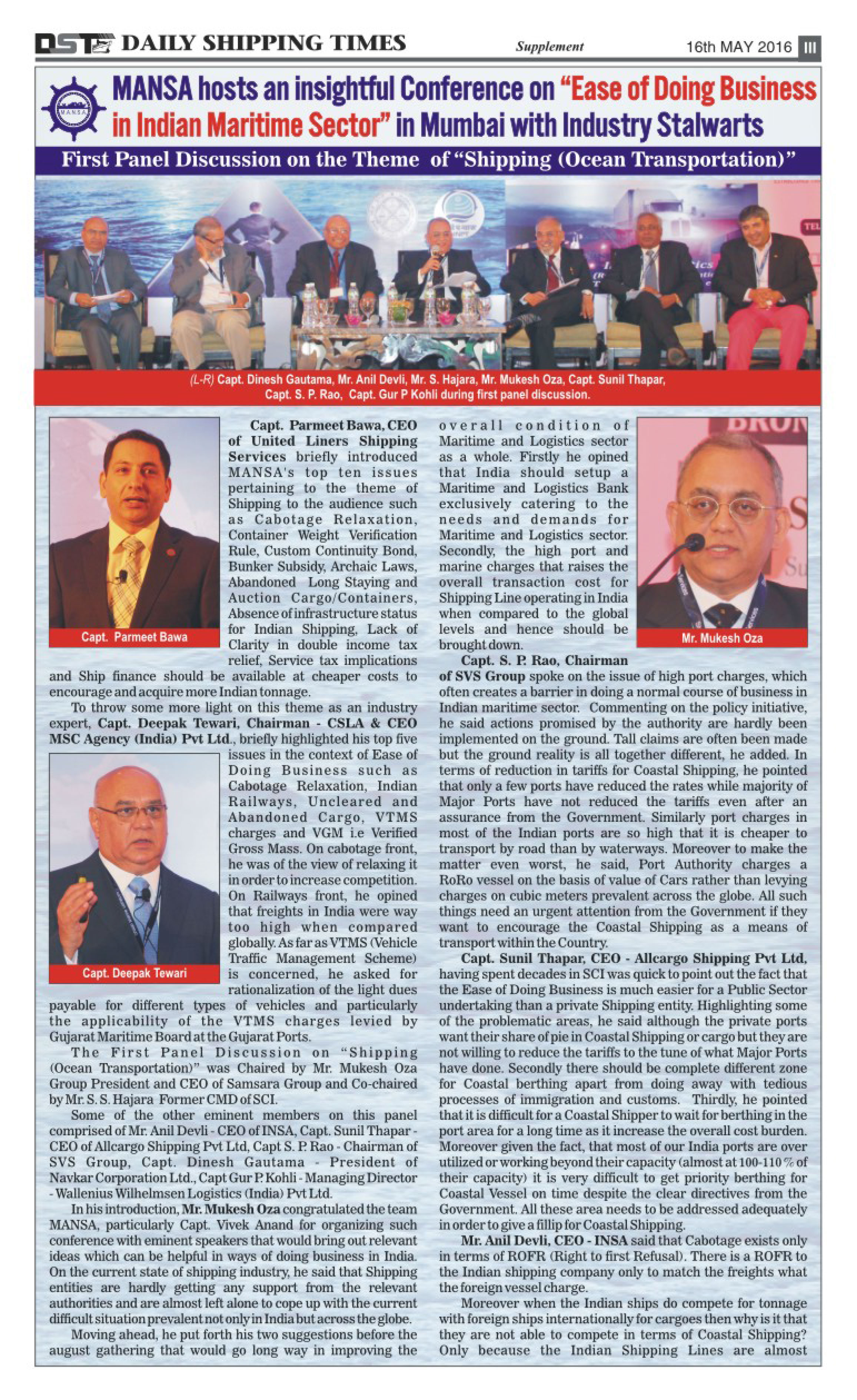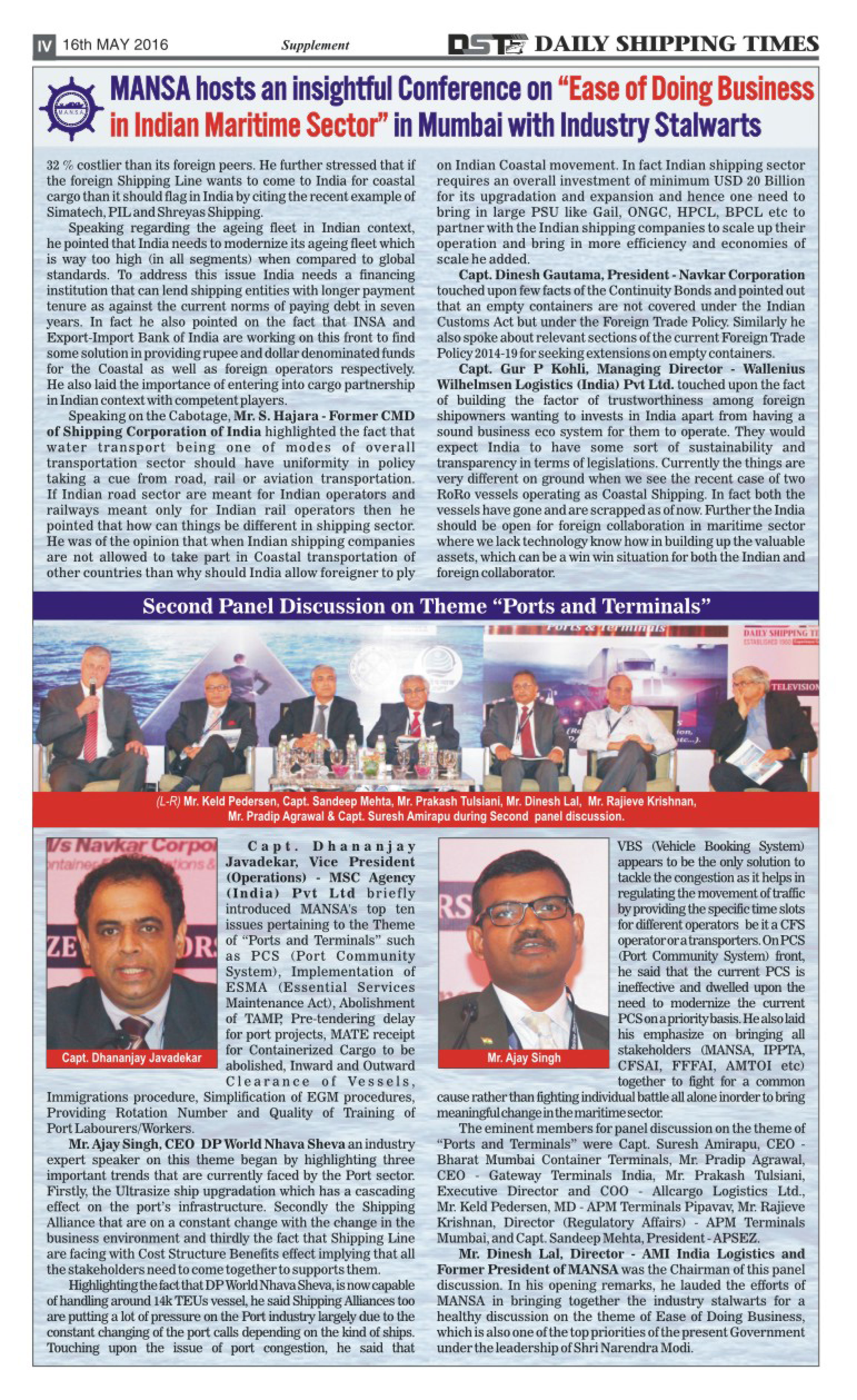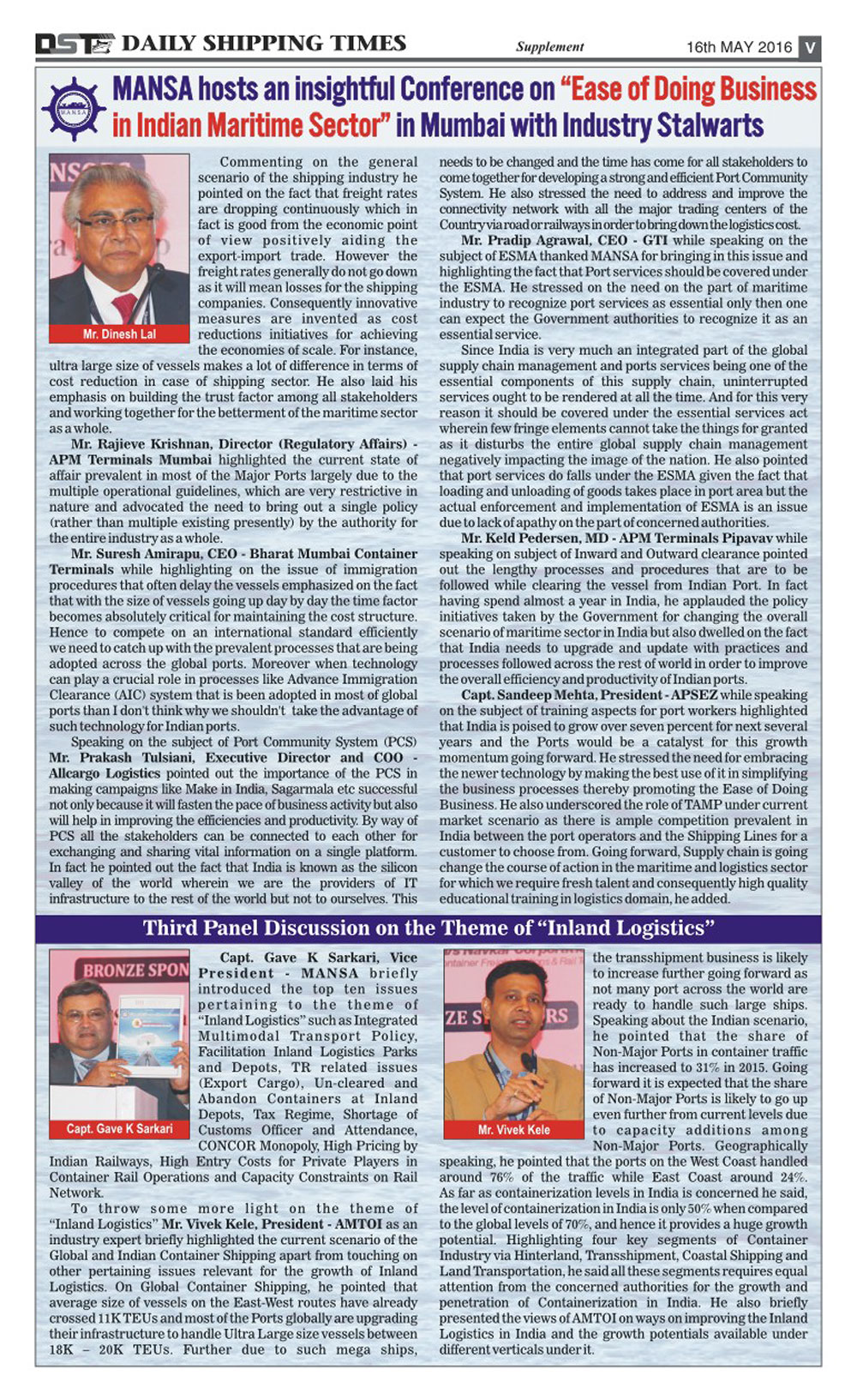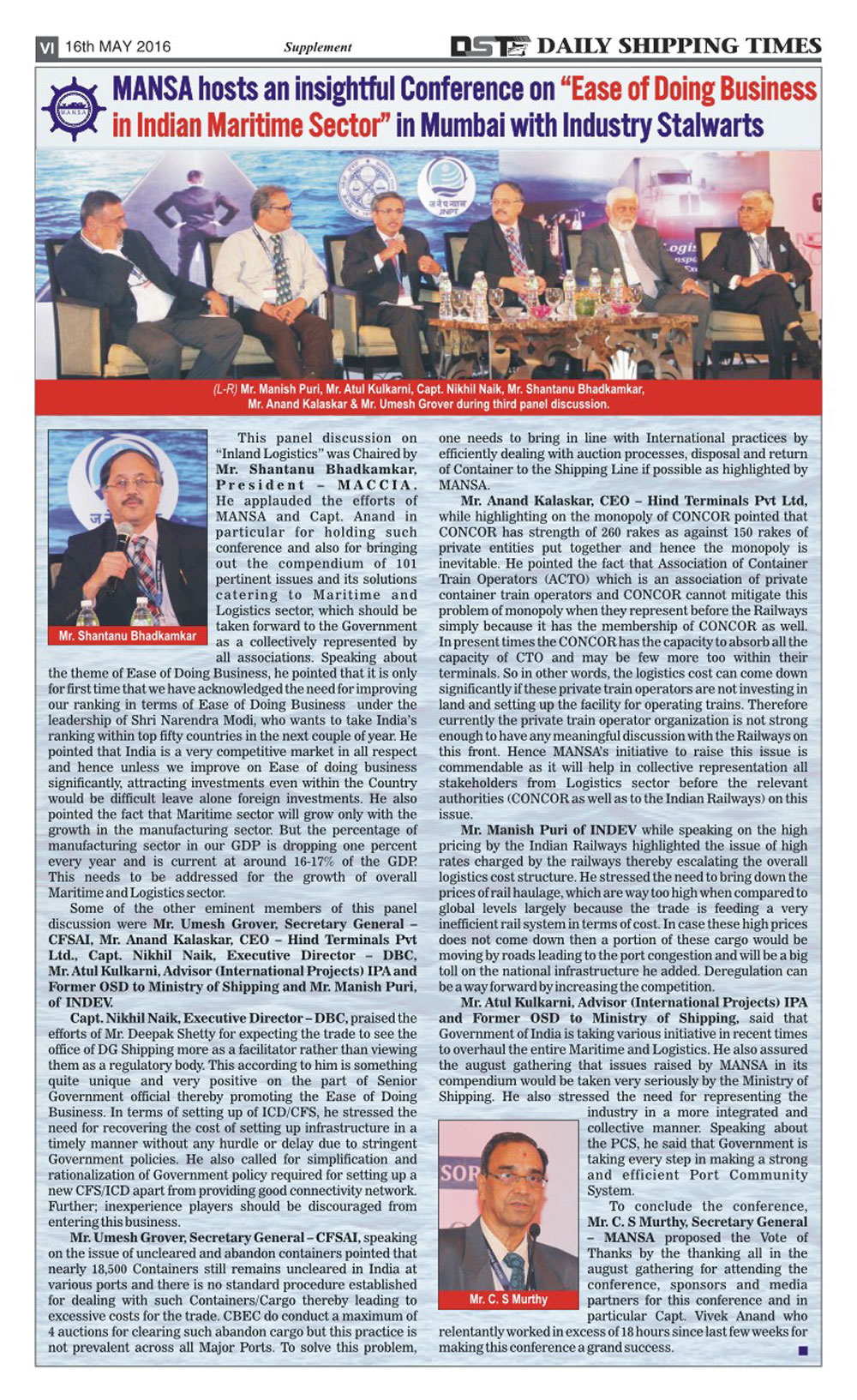 ---
MANSA Extends Services to Members & Shipping Fraternity - Introduces Scheme of Hiring of Conference Room
With effect from 2nd May 2007, MANSA has introduced a scheme of hiring its Conference Room to its Members and others for holding Conferences, Meetings, Training etc. for the benefit of its Members and other Shipping fraternity. This scheme is to facilitate the Shipping Trade activity which is one of the objectives of the Association.
The Conference Room is fully air-conditioned, well-lit and is located with a sea-side view in the MANSA Secretariat on the 9th Floor at 901, Arcadia, NCPA Marg, Nariman Point, Mumbai – 400 021. It has the capacity to accommodate upto 40 participants and is provided with an Oval Conference Table with 15 Executive Chairs and 25 Conference Chairs with half writing table.
The Secretariat will provide tea, coffee, biscuits, cold drinks, bottled water as per requirement and order. Stationery like pad, pencil etc. will also be provided if required and on order.
A Discount of 25% will be given on the Room Hire Charges for MANSA Members only.
Presently, there are no Screen Boards, Writing Boards, Projector etc. provided. Plans are being made to procure these facilities in due course. Meanwhile, the applicants are permitted to bring and use these accessories for which electricity connections will be given free of cost.
The Tariff and other details along with the format of application are as under:
The Scheme
Sr. No.
Type of Service
Rates
1
Room Hire on

a) Half day ( 9.00 am-1.00 pm ) / ( 2.00 pm-6.00 pm )
b) Full day ( 9.00am-5.00pm )
c) Additional per hour




Rs.3,000/-
Rs.5,000/-
Rs.1,000/-

2
S.No.1 + Tea, Biscuits & Water
On actuals
3
S. No, 1 + 2 + Stationery - Pad & Pencil
On actuals
4
S. No. 1 + 2 + 3 + Cold Drinks & Xerox
On actuals
5
Discounts to Members
25%
6
Security Deposit (Refundable after 1 month from booking date)
+
Advance Deposit
Rs.1,000/-
+
Hire Charges
7
Service Tax (% of hire charges)
12.36%
8
Capacity of the Conference Room
40
9
Payment should be drawn on
Mumbai And Nhava-Sheva Ship-Agents Association

Please Note
1
No discounts will be given to others (Outsiders)
2
Display of banners/posters within the premises and not on the walls
3
Catering facilities other than snacks mentioned in the tabulation will not be provided
4
Extra Service Charge will be charged on catering facilities
5
Hosting of cocktails not allowed
6
No Telephone Service will be provided
7
No Hire Services on Meeting Days, Sundays and MANSA Holidays
8
The Conference Hall will not be available on the dates of meetings/conferences held by MANSA
9
The booking made will be confirmed three days in advance
10
If for any reason, the management cancels the booking, the Security Deposit & Hire Charges will be refunded
11
Once the booking is confirmed, if the hirer cancels the booking for any reason, the Security Deposit will be forfeited and the Hire Charges deposited will be refunded after one month from the date of cancellation
MANSA is a legally recognized, industry
acknowledged and completely unified
body of Ship Agents operating in
Mumbai Port and Jawaharlal Nehru Port .